No Owl Ride in 2017; MFD hopes ride to return in 2018
The Owl Ride, Omaha's annual night-time bicycle ride, will not be held this year due to organizational complications. The event, held for the past seven years, is a fund-raiser for the Meyer Foundation for Disabilities, which funds programs to aid metro-area teens and adults with developmental disabilities and their families.
The Board of Directors of MFD recently learned that the event coordinator we had hoped would direct the 2017 event had another obligation.  The Board felt it did not have time to seek a replacement and still do all that was needed by this spring to promote a successful and safe ride this year.
We are sorry to disappoint those who have enjoyed the Owl Ride and supported MFD's efforts in the past. The Board is re-assessing future plans for the event and hopes it will return to its regular July weekend in 2018.  If you have any questions or suggestions, or would be interested in helping plan next year's ride, please contact us at info@mfdisabilities.org. MFD welcomes your input on how we can make this event better than ever. Thanks again for your past support of MFD.
–MFD Board of Directors.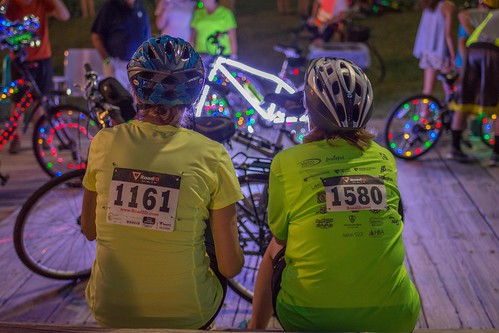 The Owl Ride gives riders a choice of an 7.5-mile short course and a 17-mile extended route. With its non-competitive format and choice of courses, both casual and serious riders and families can enjoy the unique experience cruising Omaha's streets at night on the Owl Ride. The family-friendly short course takes riders from Omaha's riverfront into midtown Omaha. The extended course continues through the heart of Dundee and Aksarben Village before returning downtown via Field Club. Come join us at Lewis and Clark Landing on Omaha's riverfront for the largest nighttime ride between Chicago and Denver.
The Owl Ride is not only a great and fun event, it's for an amazing cause, with every dollar of your tax-deductible registration fee helping the non-profit Meyer Foundation for Disabilities improve the lives of adults with developmental disabilities in our community. In fact, with 2016 Owl Ride, we're hoping you can help us Light Up Their Lives!
Almost everyone knows or went to school with someone who has Down syndrome, autism or some other disability. Did you know that as children with disabilities age out of the school system into adulthood, support for them and their families dries up, often leaving them socially isolated?
The Owl Ride gives these families a lift, providing recreational, social and life skills programs for young adults with disabilities, many delivered through UNMC's renowned Munroe-Meyer Institute. When you register for Owl Ride, you help these young adults enjoy an evening of swimming or games with friends, be part of a book club or learn to cook for themselves. And you give their families a much-needed break from the role of 24/7 caregivers. (See a video below for how the Owl Ride changes lives!).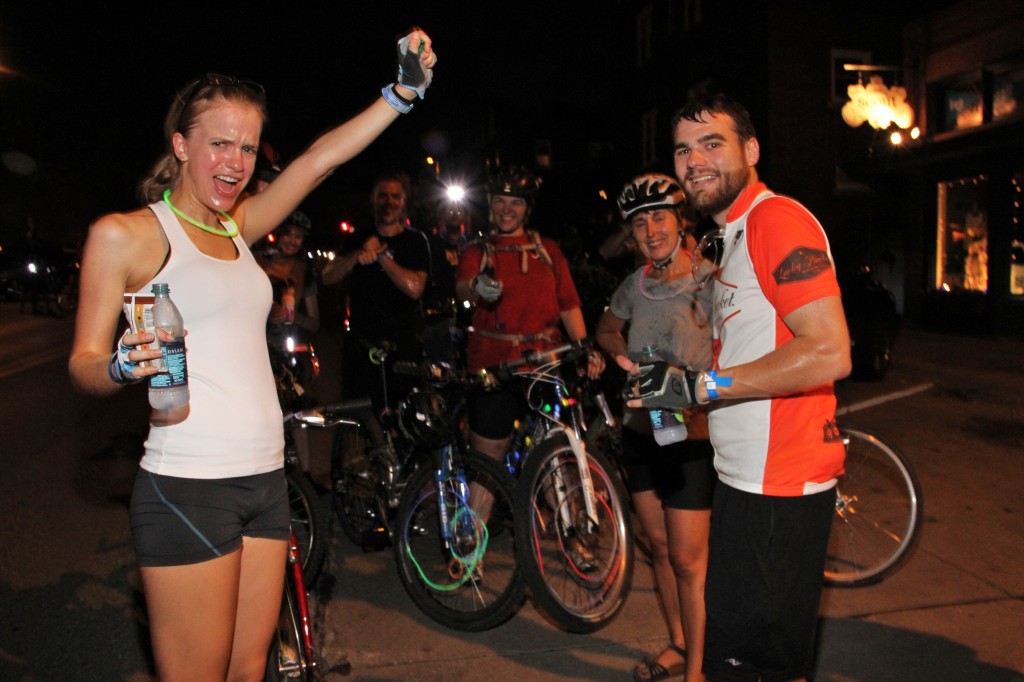 The details: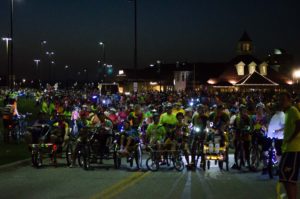 The cost to register is $30 for adults, $35 the day of the event. Kids 18 and under are $10 when riding with an adult, $15 the day of the event. Owl Ride registration comes with:
Official Rider Guide/route map.
The chance to buy a cool dry-wick Owl Ride T-shirt for $10 (to be guaranteed a shirt, register by June 30).
Rider identification bib (for registration confirmation and on-route bicycle maintenance support).
A cruise through the heart of Omaha on a great course, with police providing traffic support at major intersections (streets are open to traffic, though, so do ride with normal discretion).
Bicycle support provided by our local bike shop sponsors,  including Bike Rack, Olympia Cycle, The Bike Way, Trek Bicycle Store, Re-Cycle,  Bike Masters, Community Bike Project, the Bike Union Mentoring Project and Green Street Cycles.
Owl Perch rest stops with water/refreshments and snacks.
Post-ride snack and entertainment at Lewis and Clark Landing
NOTE: Helmets are required for all Owl Ride participants, and state law also requires anyone riding at night to have both a front light and rear reflectors. Our sponsors offer discounts on helmets and lights. See our Safety page for more information.
Packet Pickup
Registered riders are strongly encouraged to pick up their packet in advance of the ride.  Packet pickup is set for Dick's Sporting Goods at the Westroads on the following dates:
Saturday July 9, 10-1.
Wednesday July 13, 5-8.
Saturday July 16 (day of ride), 10-1.
 The Meyer Foundation for Disabilities
In addition to a great night, you will help people in our community. The ride is a benefit for the Meyer Foundation for Disabilities, which offers programs and activities for people with developmental disabilities. See how your registration helps to improve the quality of life and promote inclusion for teens and adults in greater Omaha:

FACEBOOK: Click here and like our page on Facebook so you can get updates on the ride right in your feed.
TWITTER:Follow us on Twitter! Click here to connect with the Owl Ride and stay up to date.
Want to see what it's like? Click here to see The Omaha World-Herald's great photos from the event.
And click here to see the World-Herald's video coverage on Omaha.com.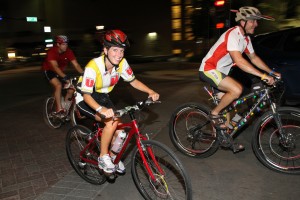 Contests and Prizes
Click here to learn more about Owl Ride contests and prizes, including our Bright Bikes contest and the Biker Build Off, giving you a chance to win the ultimate in urban bikes! Click here for a video of the bikes you'll have a chance to win.
Teams
Friends, co-workers and families may form teams to share the evening's adventures.
FAQ
Want to know more? Click here for a list of Frequently Asked Questions.